Even with the visitors 3-0 up in the 87th minuter John Beaton couldn't bring himself to award a penalty against Micky Beale's side.
It is over a year since Lewis Ferguson scored from the penalty spot against Allan McGregor at Pittodrie, after a letter of complaint about Kevin Clancy was 'leaked' to Sky Sports the message got out with Conor Goldson taking full advantage of the embargo.
Beaton's Roll of Shame dates back to a ridiculous goal by Bilel Mohsni to deny Albion Rovers a Scottish Cup win at Ibrox, nine years on he is still delivering very predictable decisions as Carl Starfelt recently discovered.
No Penalty.

Goldson again.

WTF.

No shame.

Bother Beaton shrugs his shoulders and his VAR brethern.

It's more corrupt than the tories. pic.twitter.com/wfdu83QRdJ

— EnoughisEnough (@theoldgovanarm1) February 1, 2023
As the ball is played across him it strikes Goldson in the stomach, rolls up to fall towards an opponent when his right arm comes out enough to deflect the ball away from the Hearts forward.
Beaton could have awarded a penalty, VAR Kevin Clancy could have nodded it through and the freaky stat about a club that has gone 24 SPFL matches this season without conceding a penalty would be wiped out. No impact on the match or the league table
Old habits are ingrained with the Lanarkshire branch, a fake conversation with the VAR was played out before a shake of the head from the match referee and play on lads.
What should the SFA do with Nick Walsh?
Carry on Nick, everyone is allowed honest mistakes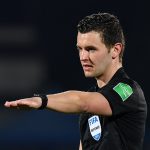 Demote him to the Lowland League, learn from his mistakes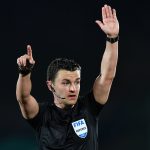 Sack him, he is incapable of applying the Laws of the Game