According to the great, the good and the intelligensa of Rangers Radio 7,000 bears were invisible inside Celtic Park.
The re-writing of history is something of a speciality among the Gullible & Deluded, especially as they come to terms with the fact that 800 won't be spitting out their poison on April 8.
It seems that Celtic performed some disappearing trick on the 7,000 fans who would be in the South-East corner and the top and bottom tiers of the Lisbon Lions Stand that made them invisible.
Certainly with 20 minutes to go in the 5-0 Title Clicher in May 2018 they disappeared but in every other match since Celtic Park was redeveloped in the late nineties they had 7,000 tickets- the exact same number as Celtic had for the Free Broomloan parties led by Scott Brown and Leigh Griffiths.
— Tam sellic son (@TamseIIicsonIII) March 18, 2023
Among Celtic fans there seems to be a split with a noticable majority realising that zero away fans is better than 800 away supporters.
Bears being bears are angry at another erosion of their supposed culture and identity- exporting their hate-filled poison apparently makes the seven year old fixture the greatest in the world.
In Turkey and across South America there are fixtures with far more passion and certainly a timeline going back beyond 2012.
What is the best away ticket allocation for the Glasgow derby?
800- that was what Dave King wanted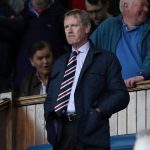 Zero- cut to the chase, last February was outstanding