James Bisgrove has again spoken out about the thorny issue of away ticket allocations for the Glasgow Derby.
After having token presences of 700 fans at the first two SPFL fixtures of the season there were no away fans at the matches in April and May.
No explanation was ever given for the change but it seems that safety concerns were the main factor.
Bisgrove takes over as Ibrox CEO at the end of July but appears to have taken on the role early with two interviews last week, one to club media followed on Friday by speaking to broadcasters and the written media.
In the Scottish Cup the SFA insist on away clubs getting 20% of all tickets but there is no such rule in the SPFL with St Mirren and Hearts significantly cutting the allocation of tickets given to Celtic in recent seasons.
Interviewed by Kris Boyd on Sky Sports last night, The Sun reports the in-coming Ibrox CEO saying:
As we've now again sold out our season tickets again for next season – which is phenomenal, 45,000 season tickets – the [away allocation] opportunity for next season is in the corner of the Govan West stand which means the maximum we can do is 700-800.

But that's subject to what the rest of the stakeholders bring to that conversation and we'll see where it goes thereafter.
Bisgrove added:
I think there's a long way to go before that's a realistic opportunity or consideration.

To manage expectations then I would say that looks unlikely but we need to take it one step at a time.

There are so many considerations in terms of the security operation getting two sets of supporters getting in and out of both stadiums.

We want to make sure if our supporters go to Parkhead they're protected and take our responsibility here so we have to be guided by the authorities and the clubs will also have a voice.

As a minimum we're going to be around the table and have dialogue with Michael [Nicholson] and Police Scotland over the summer months
Should Celtic accept 700 tickets for Ibrox next season
Yes, the team need some backing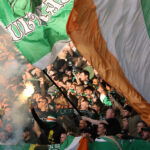 No, not worth it for the bother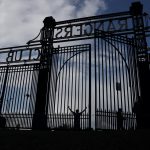 Bisgrove makes the sale of those Season Tickets seem almost accidental but as soon as they went on sale it reduced the number of tickets available to visiting supporters.
With the first Derby match at Ibrox next season Celtic will have to decide whether or not they take an allocation, if they decide against then it is almost inevitable that there will be no away fans at any of the SPFL Glasgow Derbies.