It was one of the saddest pictures of Christmas- so sad that even his dog looked unhappy.
During two and a half years at Celtic, and mainly during the 2016/17 Invincible season, Paddy Roberts could do little wrong as he provided his unique wing-play to the all-conquering side of Brendan Rodgers.
The player seemed to be enjoying himself, he gave up the chance to play for England at the u-20 World Cup Finals to be involved in the Rogic Cup Final.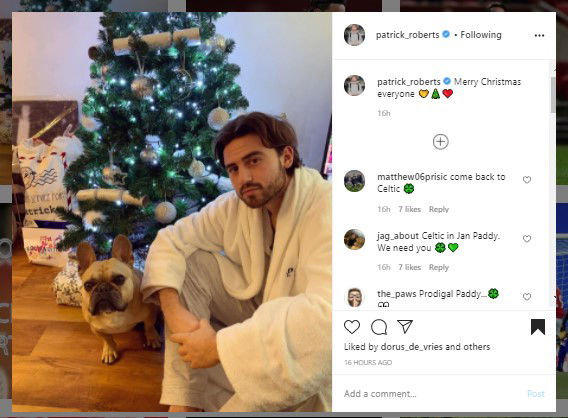 Roberts returned for another season on loan but injury meant that he was only a shadow of the influence he had been the previous season- hamstring issues had robbed him of his sparkle.
Celtic fans have watched closely, with a tinge of envy, as the winger tried his luck at Grenada, Norwich City and now Middlesbrough without any repeat of his success in Scotland.
Celtic badly need wide players, Neil Lennon acknowledges it but whether Roberts will be part of the solution remains uncertain leaving fans with fading memories to hold onto.
View this post on Instagram