Frank McAvennie has launched a blistering attack on Kris Ajer.
The veteran 'treasure hunter' has become increasingly opinionated, delivering the sound-bites that make easy headlines with plenty at Celtic to be critical of this season.
Celtic's defence has had a horrendous season with the stats about goals from set-pieces testament to the problems of this season.
Ajer has been part of that but only alongside a goalkeeper and team-mates who seem overly vulnerable whenever a corner is awarded or free-kick within 40 yards of goal.
Anyone looking at the situation rationally would realise that the problem goes far deeper than one individual.
Ajer started the season alongside Chris Jullien, Shane Duffy then came in, Jullien returned then after a short run with Nir Bitton the baton was handed to Stephen Welsh.
Throughout the season that fans would rather forget Ajer has been the constant- the backbone of the defence at the age of 22. To put that in context he is younger than Conor Hazard and Ross Doohan. Other than Welsh he has been the youngest player in defence, younger than the three goalkeepers he has played in front of.
Slamming Ajer at his latest media appearance, the Daily Record reports McAvennie saying:
The defence has been the downside for me this season. Every time Celtic have conceded a corner or free kick you're thinking it could end up a goal. That's not right. Middle to front they still have decent players but the problems have been at the back.

By all accounts big Ajer has had a great season – well, that's according to him but it's not about individuals. It's not about him thinking he's had a good season, it's about having a good season as a team, and they back four hasn't been very good.

Too many of them have been playing for themselves, rather than for the team. He should be talking about bringing Welsh through, helping him through games. I don't like the 'I'm all right Jack' stuff.

Ajer might go to a league where there is not much heading the ball. Unfortunately it's part of football and I've never seen a centre half that doesn't want to head the ball. I don't know what's going on with the zonal marking either, but if it's half the battle if you have guys who want to go and win it.

Celtic are too nice at the back right now. I wouldn't mind playing against these defenders when I was at my pomp.
Do you agree with McAvennie's criticism of Kris Ajer?
Yes, he is a liability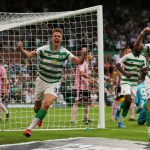 No, we'd be some state without him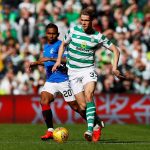 In the only highlight of the season so far Ajer stepped up to take the vital penalty in the Scottish Cup Final win over Hearts that delivered the trophy for the fourth successive time.
Ajer has made 42 appearances for Celtic this season with only Callum McGregor playing in more matches.