Even among the Gullible & Deluded there has been a little concern about the analysis of their club accounts by Swiss Ramble.
After four days being force fed news about an operating profit it was something of a shock for a non-Celtic source to admit that there was a £4.144m loss for last season.
Various theories have been put forward to explain losing money despite selling Calvin Bassey and Joe Aribo while reaching the Champions League.
A £35m difference in turnover to Celtic is a tough one for bears to get their heads around but some explanations have been put forward.
Apparently Selik counts things differently, tens of millions have been spent on Ibrox and Murray Park with the £9m rise in wages put down to Champions League bonuses- nothing to do with new contracts for James Tavernier and Connor Goldson alongside signing Rabbi Matondo, Ben Davies, Ridvan Yilmaz, Tom Lawrence and John Souttar.
Explaining away the concerns of some, Robbo 89 took the stage on Follow Follow after taking his head out of the sand to log in and hit the keyboard.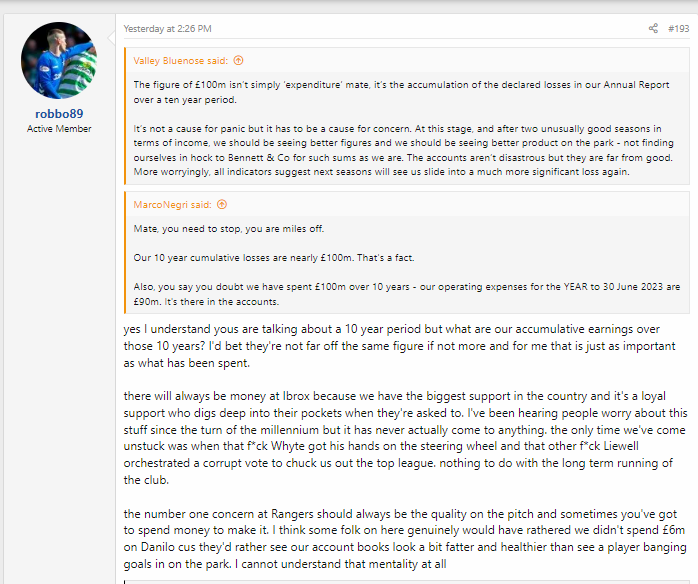 There are plenty of views like that, at a push all of the problems can be solved by picking up £50m from selling Todd Cantwell, Jack Butland, Danilo, Yilmaz and rising star Ross McCausland.
The January transfer window could come as a bit of a shock to Robbo when he discovers Philippe Clement's war-chest.
CLICK HERE for the Swiss Ramble report.