Rangers Retail is about to be struck off at Companies House with a decision on the complex dispute between the club and Sports Direct International expected to be concluded next month.
Since Dave King swept to power in March 2015 retail and merchandising has become a battleground with the South African based criminal trying to overturn contracts set up by the founding fathers in 2012.
The deal struck by Charles Green and commercial guru Imran Ahmad gave the club an instant high street presence as they set off on their journey.
Rather than try to provide a beneficial partnership for both parties King has tried to take on and undermine one of the UK's most successful self made businessman who has mastered the retail market as household names such as Woolworths and British Home Store have gone into liquidation.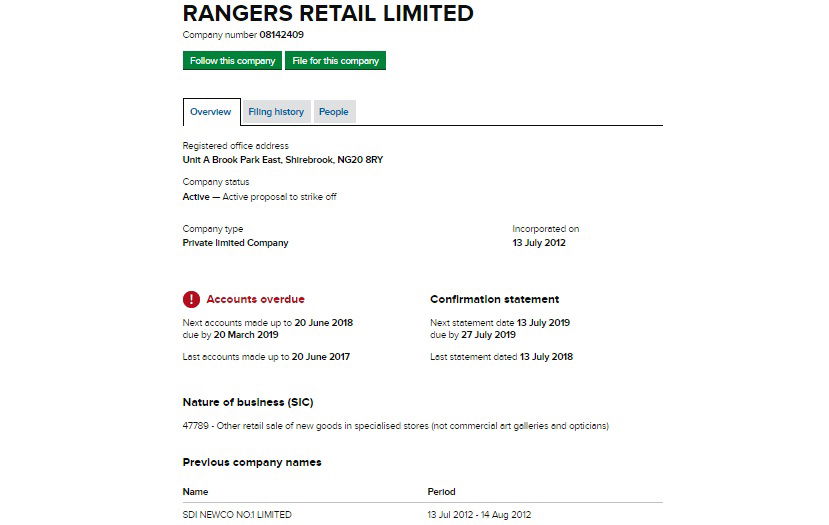 In June 2017 King claimed victory in the so-called battle as he urged supporters to buy up kit with the club going into the new season wearing the same strips for the second season running. At the AGM in November it was revealed that it had cost £3m to set up a new deal with Sports Direct.
SDI halted the release of the new Hummel kits last summer with the English courts backing their right to match any offer given to the club from a third party.
On June 18 it is expected that SDI will be awarded compensation with a figure close to £10m plus costs being mentioned. Just as importantly SDI will insist on the contract being honoured giving them full matching rights.
With Rangers Retail about to be wound up it looks like another source of funding for Steven Gerrard's transfer war-chest is about to be closed off.
CLICK HERE for full details at Companies House.
Don't overlook the performance of Hendo II yesterdayhttps://t.co/ziL5sy9zuD

— Joe McHugh (@videocelts) May 20, 2019