Obsessed Brendan Rodgers has attempted to bundle himself alongside Kieran Tierney in an outpouring of self pity with his favourite Scottish publisher, the Daily Record.
After less than three years at Celtic the Irishman slipped out of Lennoxtown one Monday afternoon then appeared at Leicester as their new manager just over 48 hours after the sacking of Claude Puel.
Tierney spent more than a decade playing for Celtic, often through serious injury and sat with supporters watching matches whenever he wasn't playing.
Celtic's continued success under Neil Lennon is clearly an issue for Rodgers as his legacy is diminished on a monthly basis.
Comparisons between this season's side and last season are being made regularly by supporters with Rodgers turning to the Record as he wallows in self pity at being compared to a snake and a rat by supporters who cheered him a year ago.
Tierney will have no problem moving back within the Celtic support with a strong suspicion that his transfer was encouraged by a boardroom keen to ensure a healthy profit on a player that came through the ranks.
On the flimsy grounds that Leicester play Arsenal Rodgers turned to the Record to discuss the £25m Arsenal full-back:
You can't take out of him what he is – he's a Celtic supporter and you can see his love for the club but his career is short and there was an opportunity for him to go into the most competitive league in the world and he chose to do that.

I'm told he has been criticised by some fans for leaving. I understand that and he'll understand it too. We both know that, for a big part of the Celtic support, there is no other club in the world than Celtic.

So when they feel like one of their own has chosen to move on they can't understand it. Kieran and I both get that. We can see it from their perspective because it hurts.

However, there is another side to your career and your life that you have to think about. He has decided to go down there, he has joined a great club and I have no doubt he'll do very well there.
Should Rodgers shut up about Celtic and get on with dedicating his life to Leicester?
Yes, get on with it, move on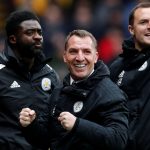 No, it's good that he still cares for us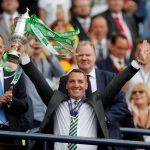 With his tall stories about Danny McGrain and the Clyde Tunnel few Celtic supporters will trust a word that Rodgers says as he dedicates his life to Leicester City.