According to a typically self-indulgent piece in the Daily Record Alfredo Morelos will discover the 'ugliness at the heart of the Scottish football support' tomorrow when he faces the eight-in-a-row champions.
Poor Fredo has apparently suffered years of abuse since he arrived in Scotland with the sole intention of providing festive toys for the poor and needy of Colombia.
Apparently there has been no welcome mat rolled out for the international star who emerged from the back-streets to provide joy, happiness and inspiration for those in his homeland.
It seems that the Record has been rather selective about the striker's two and a half years in Scotland.
If they want to look back a year they will find this poor misunderstood individual delighting in attacking Scott Brown, Ryan Christie and Tony Ralston. For encouragement Scottish referee John Beaton refused to discipline Morelos who celebrated his attack on Ralston with a post on twitter.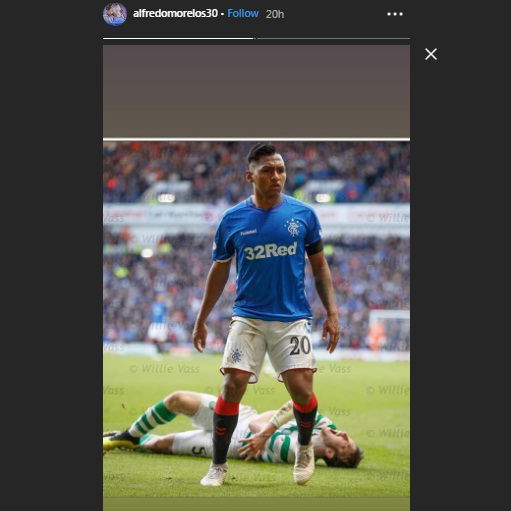 Six months earlier Celtic fans HAD rolled out the red carpet when the former HJK Helsinki starlet made a substitute appearance at Scotland's Premier football stadium.
Replacing Josh Windass after 57 minutes in a 5-0 defeat the appearance of Morelos was met with a standing ovation and cheering by 52,000 Celtic fans. Team-mate Andy Halliday had been given similar encouragement throughout the game.
The Record reports:
Alfredo Morelos can sleep easy as he heads into 2020 no matter the result at Celtic Park. One Scotland, many cultures?

It's unlikely the Colombian striker will be called up any time soon and asked to lend his endorsement to the Holyrood campaign.

Scottish football can be a brutal, tribal business, but the civic nationalism espoused by Nicola Sturgeon was long ago exposed as a fallacy when it comes to the Rangers frontman.

Too often, there's an ugliness at the heart of the Scottish football support, which will be manifested in all its gory detail in tomorrow's Old Firm clash.
In his last visit to Celtic Park Morelos was sent off for a first half kick at Scott Brown.
Gary Ralston is right to call out abuse of Alfredo Morelos.

But he conveniently forgot about this piece in his own paper from Jackson two years ago.

His name is Morelos by the way, not drug mule. https://t.co/zIHZo9yFLI pic.twitter.com/rXgWjs5O9a

— Grinty (@Ginty1888) December 28, 2019