Neil Lennon's agent took to twitter last night to defend his client against the welter of criticism.
The power of social media can feel overwhelming at times but it is best to avoid getting dragged into a storm no matter how strong the temptations. Twitter is rarely a battle that can be won.
Paul, a very well known Celtic fan on Social Media, shouldn't have his commitment doubted. Sure he follows the team win, lose or draw but he isn't blinded when people come up short. Yesterday was one of those occasions, legitimate and concerning questions are being asked.
True, many 'fans' went overboard with their criticism of Lennon with very personal comments but there were solid grounds from the fans after watching a lifeless derby performance.
Players can be off form, opponents can be inspired, honest mistakes can come from the officials but neither of those aspects were prominent in yesterday's defeat.
The number one criticism was the lack of interest/heart/passion throughout the 90 minutes with perhaps only Stephen Welsh and Diego Laxalt exempt from the brutal online attacks. If motivation is lacking the problems are more serious that most fans can imagine.
Playing without passion or purpose is unforgivable but it did seems as if Celtic were going through the motions- on the park and in the dug out.
Some players were missing but Nir Bitton and/or Hatem Abd Elhamed aren't regulars- would they have contributed more than Welsh?
Odsonne Edouard was a loss but since getting chopped against Dundee United he hasn't looked like his real self, Ryan Christie's absence should be covered by the options presented by Olivier Ntcham, Tom Rogic and David Turnbull.
A brutal Post Mortem will continue over the next few days at least, Reilly would be better off working with his client off-line and ensuring that everything within Celtic is being used to back the manager and ultimately the team.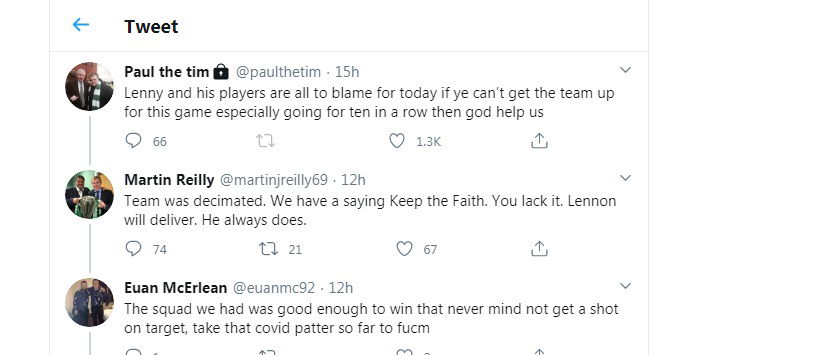 Team was decimated. We have a saying Keep the Faith. You lack it. Lennon will deliver. He always does.

— Martin Reilly (@martinjreilly69) October 17, 2020
Really? 5 players making derby debut. One day to prepare the team. They are the facts. But you crack on

— Martin Reilly (@martinjreilly69) October 17, 2020
Griff and ajeti were never fit to start. Are you stupid enough to believe he would not have started them if they were. Give me strength

— Martin Reilly (@martinjreilly69) October 17, 2020
Paul I know your disappointed but the way people turn on Lenny and the club baffles me

— Martin Reilly (@martinjreilly69) October 17, 2020