Three of the top Daily Record football reporters have been discussing how Michael Beale has got under the skin of Ange Postecoglou.
It is a fanciful notion without any credibility but after tipping the former Yokohama Marinos boss to be sacked before Christmas 2021 there is real fear among Ibrox fans at the way Celtic are developing under Postecoglou.
The hoops boss has already seen off Steven Gerrard and Giovanni van Bronckhorst, in reply the Ibrox board turned to someone with a few months management experience in the English Championship.
Since his arrival Beale has been greeted by an unquestioning media, hanging on every comforting sound-bite. Even when he dismissed 10 teams in the SPFL claiming that the real gap between the Glasgow clubs was three points from the September hammering at Celtic Park there was no questions asked.
Postecoglou deals with largely the same faces at his media conferences, it seems that over the course of 18 months few of them have been listening as he explains how his focus is fully on his own players and the next match, almost everything else is noise from media outlets trying to engineer up issues and interest.
In a bid to create an audience as print figures fall off a cliff the Record has launched a number of podcasts for targeted audiences. 
The word we is used throughout the 'Rangers Record Podcast' rather than offer some detached perspective on events it sounds more like three deluded bears posting on a forum about how 'tae stoap Selik'.
Gavin Berry, Andy Newport and Scott McDermott sound very relaxed and off record as they discuss the incredible powers of Mister Beale.
1 minute 40 seconds, McDermott
As well as what we needed to do on the pitch I think that we needed a new manager to come in and actually take Ange on off the pitch, not be scared of what you say , you know, not be tip toeing about.

And Beale I think to his credit has done that. Now, as I say it is going to look a wee bit silly if Celtic go and get a treble, know win this cup final, em, and take the other two trophies. That is the gamble that Beale has taken but I think that he has had to take it. I think as a manager you have to show your players as well that you're not going to be pushed about off the pitch as well as on it.
Beale's description of Postecoglou as a lucky manager is one that the usual suspects are desperate to get a response to. It seems that the rookie boss at Ibrox has patented the word lucky- if Ange uses it it is in reply to his counterpart at Ibrox
Three SPFL wins in the Glasgow derby during 2022 have set the standard, even a badly performing Celtic side were able to come back to earn a draw at Ibrox at the start of the month.
The nine point gap has been maintained, the goal difference advantage strengthened with 20 wins from 22 SPFL matches, hardly FACTS! That suggest a manager creaking under the pressure of mind games from a rookie boss.
As ever the Daily Record remains in the Celtic media loop, even after Keith Jackson using successive Monday columns for personal attacks on Postecoglou without any comeback from the club.
Did Kevin Clancy get it right with Celtic penalty against Morton?
Yes, the VAR and match official know the laws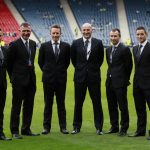 No, a joke decision, never ever a penalty