Micky Beale has taken to very selective and contrived use of statistics.
There are clear parallels with a Tribute Act wanting to claim the glory and successes of the original act but washing their hands of all the bad bits like shafting 276 creditors and more than a decade of trophies 'won' by fielding players through a disguised remuneration scheme that denied Her Majesty tens of millions of pounds.
In almost the the same breath Beale mentions next months SPFL match at Celtic Park as his third Derby fixture while the Viaplay Cup Final was his first defeat in nine against the hoops!
It is the sort of logic that sees you tell the media one day that you need much more from Alfredo Morelos then at your next media conference you tell them that he has done everything required since you took charge.
Discussing the pressures of the next Glasgow derby Beale told Football Scotland:
It will be my third game in that fixture. We should have won the first one, we didn't. We lost the second one and were second best in that game and it was a final. Now we have the third, fourth and fifth editions coming very quickly.

The final was my first loss in nine in an Old Firm and it didn't taste too good, to be honest.
Three weeks tomorrow Beale will be in charge at Celtic Park, not hiding behind Gary McAllister delivering breath-taking warm up routines.
Should the Glasgow derby SPFL matches be for home fans only
Yes, it is inevitable- get it done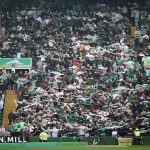 No, away fans are essential in this match