With a Scottish club playing in the Champions League tonight BBC Scotland have dug in deep to find a negative Celtic story for their gossip page.
Celtic's record breaking accounts aren't worth a mention but somewhere in the bowels of the state broadcaster they have picked up on a report from Sportpedia that the Celtic squad has the lowest notional value of all 32 Champions League teams.
Like Transfermarkt the value placed on players by Sportpedia has no factual basis, it is simply some geek passing time by going through squad lists. Earlier this year Transfermarkt was valuing Alfredo Morelos and Ryan Kent at a combined £20m.
Sportpedia is a website to provide detail and guidance on gambling, it isn't a regular source of news for the team at BBC Scotland. With a negative slant on the SPFL champions it presented the lads at Pacific Quay with an open goal as they slant the news towards their way of thinking.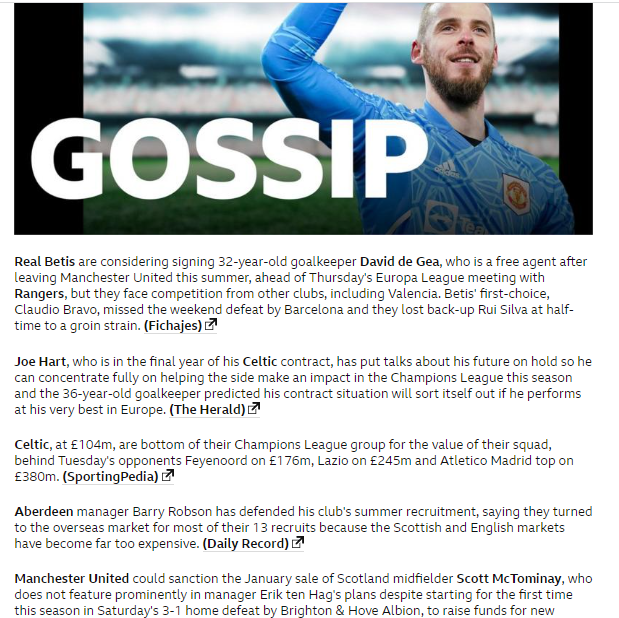 Chris McLaughlin was able to attend yesterday's pre-match media conferences which were staged by UEFA.
Since the first pre-season friendlies BBC Scotland haven't been on the invite list for Celtic media conferences.
No specific reason as been given for the decision, clearly talks between the club and the broadcaster haven't been able to reach an agreement.
Kenny Macintyre will be faking enthusiasm for the co-efficient tonight alongside Alasdair Lamont and Steven Thompson with expert opinion coming from Kenny Miller and Neil McCann. Tom English is on egg chasing duty in France, running up generous expenses.