Some Ibrox fans have ventured out of the cave to read through the Swiss Ramble report on the annual report of their Tribute Act.
After a couple of days congratulating themselves on a second successive profit the reality of the £252,000 operating profit has given way to the realisation that the correct detail is that a loss of £4.144m was made with turnover down to £83m despite reaching the Champions League and selling Calvin Bassey and Joe Aribo for significant amounts.
A £9m rise in wages has been blamed on Champions League bonuses while conveniently ignoring new contracts for James Tavernier and Connor Goldston while adding Rabbi Matondo, Ben Davies, Ridvan Yilmaz, John Souttar and Tom Lawrence to the pay roll.
This season's wages aren't likely to be any lower with a realisation that there is no-one saleable to cover outgoings.
The fact that Bassey, Aribo and Nathan Patterson have bombed at their new clubs doesn't help but hope springs eternal among some of the deluded about the value of their current squad.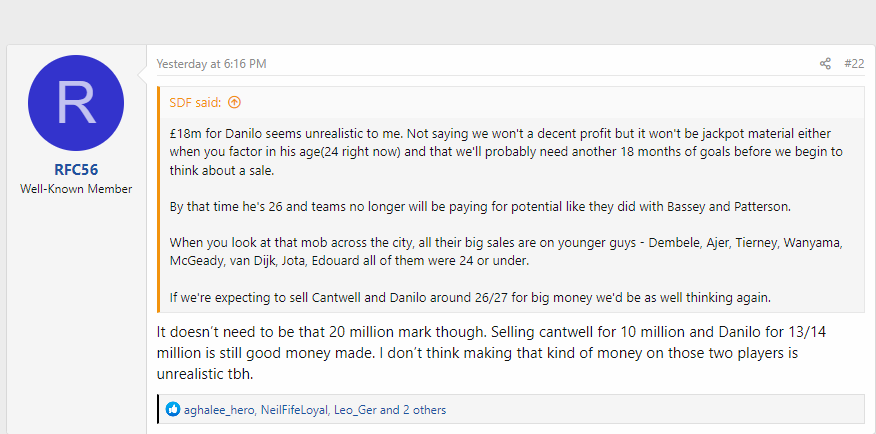 At the age of 24 Danilo has never played a full season in his career, scoring a couple of goals against Hearts and Ross County isn't going to make him attractive to other clubs. Not even scoring regularly in the Europa League brought in an offer for Alfredo Morelos.
The Clement Revolution! has given the Gullible & Deluded fresh hope for the season but reality suggests that there will have to be sales in January before anyone new can be brought in.
With a £10m price tag RFC56 won't need to worry about losing Todd Cantwell, any club waving a cheque for £13m could probably end up with Danilo and half a dozen others thrown in.
CLICK HERE for the Swiss Ramble analysis.