Andy Lacey has sent out a Twitter warning about Celtic's ulterior motive to have Saturday's match against Motherwell postponed as a mark of respect for Coolio who died overnight.
A spoof report reeled in the Ibrox influencer as he got to the bottom of another conspiracy to deliver more points and trophies to Celtic.
Lacey has a long history of jumping in head first, 10 days after the last club match his antenna is clearly on full alert as he hunts down the latest dastardly plan.
Coolio made one visit to Celtic Park, putting on a memorable appearance on Celtic TV alongwith Gerry McCulloch and Mark Wilson.
There is no chance of Saturday's match being postponed, as one Celtic fan noted 'it's what he would have wanted'.
While one outsider showed a lack of respect they were reminded that Coolio is a much loved father and grandfather. Apparently he had a remarkable sense of humour.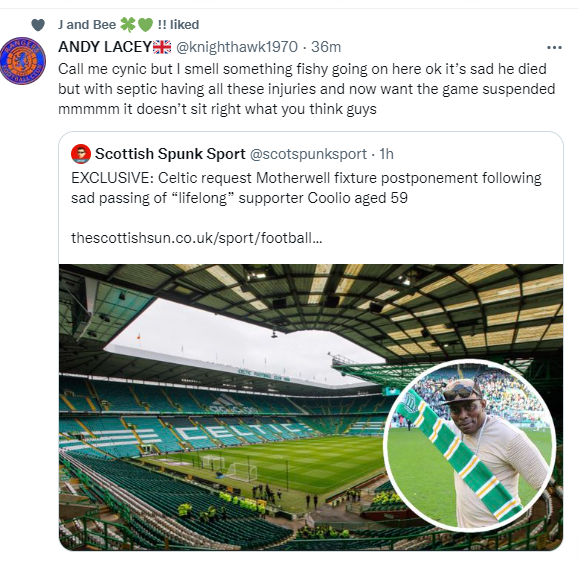 Call me cynic but I smell something fishy going on here ok it's sad he died but with septic having all these injuries and now want the game suspended mmmmm it doesn't sit right what you think guys https://t.co/AJAJcoqSzR

— ANDY LACEY?? (@knighthawk1970) September 29, 2022
Nah man it's all about respect. 10 days mourning now ?

— Joe?? (@j67___) September 29, 2022
Thats someone's father and grandfather for goodness sake

— David Harkin (@harkie1975) September 29, 2022
two words andy… not good enough ?

— james ( cotter ) clarke (@jamespclarke1) September 29, 2022
Its what he would have wanted.

— Erin go bragh! (@paulmac1888) September 29, 2022
I smell something special brew here.

— DonaldJTrumpCSC ??????????? BLT (@ReturntotheTLM) September 29, 2022