After five days of being forced fed a mythical operating profit of £252,000 the tide may be turning on the 2023 Ibrox Accounts.
Within an hour of the accounts being published every Mainstream outlet in Scotland was headlining the operating profit figure while completely ignoring the overall loss of £4.144m.
That figure was clear in the accounts, online Rangers Tax Case has had a couple of prolific days on the matter with the highly respected Swiss Ramble putting everything together this morning.
That report has attracted the attention of Roger Mitchell, the first ever SPL Chief Executive, the man who accepted the token contracts registered for Tore Andre Flo and Ronald de Boer as millions were poured into offshore accounts- out of reach of HMRC and the football authorities.
HMRC finally caught up with those deals, guilt was admitted generating The Wee Tax Case and a bill for £2.8m that was never paid. Or punished by the SPL over undeclared earnings.
Mitchell cashed in with bonus payments for securing broadcasting and sponsorship deals from players that Rangers couldn't afford to pay on the same terms as every other club operated under.
Now back in Italy Mitchell keeps up with some media buddies like Graham Spiers and Jonny McFarlane, neither of whom would attempt to publish anything off message that might cause concern to Ibrox fans.
To anyone outside of the Gullible & Deluded the accounts are littered with red flags, the income of the last two seasons is unlikely to be matched while the wage bill expands with expectations of a January spending spree to satisfy the new manager.
Champions League bonuses are being reported as the cause of a £10m increase in wages but there would have been significant payments made for success through the group stage then five Europa League knock out rounds.
Selling Calvin Bassey and Joe Aribo wouldn't have reduced the wage bill by much, however Rabbi Matondo and Ben Davies will be on Kemar Roofe style salaries after moving from Germany and England.
Turkish starlet Ridvan Yilmaz will be on a significant wage as will free agents Tom Lawrence and John Souttar.
In other circumstances Mitchell's comments would be making headline news, on a Friday night they are likely to be ignored while Kenny Macintyre deletes Mitchell from his contact book.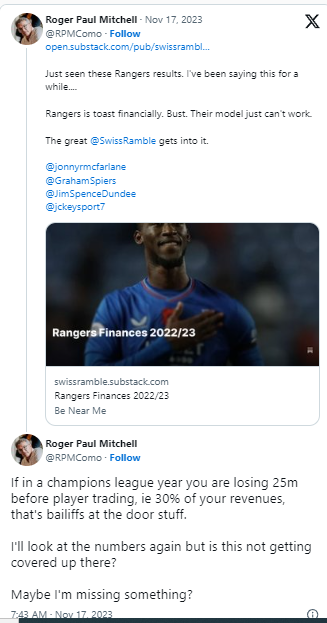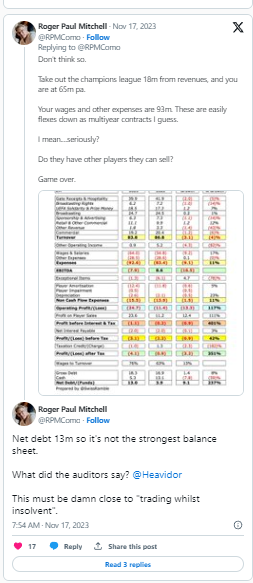 Swiss Ramble concluded:
Despite the lower revenue, Rangers still invested more money in the squad, as the wage bill increased £9m (17%) from £55m to a new club record of £64m, while player amortisation rose £0.6m (5%) to £12.4m. In addition, they booked £0.5m player impairment.

Depreciation was also up £0.5m (26%) to £2.6m, while other expenses were flat at just under £29m.

Rangers £4.1m loss after tax is actually the worst financial result in Scotland over the last two years, though many clubs have not yet published their 2022/23 accounts. In stark contrast, Celtic posted a £33m profit.

As a rule, Scottish clubs run a tight ship, so everyone except Rangers and Celtic can be found in a narrow range between £2m profit and £2m loss, i.e. effectively break-even.

If we look at the results before tax, the difference is even larger, as Rangers' £3.1m loss is £43.8m worse than Celtic's £40.7m profit, which in fairness is a record for Scotland.
Not trying 2b flippant -not getting covered for reasons uR all 2familiar with

client journalists-not in their interest to cover it

same client journalists
genuinely not sure they've the intellect 2understand what it means &
therefore the horizon risk that club/company r facing

— D (@D188867) November 17, 2023
Widely reported in the Scottish press as a healthy set of results……
Reporting on financial accounts based on a Club press release, rather than reporting on financial accounts based on financial accounts. ?????
Same as it ever was.

— Aldo Boot (@bikey99) November 17, 2023
The Courier didn't get the memo, Jim?

— Aldo Boot (@bikey99) November 17, 2023
This has been covered up by both versions of Rangers, the press written and broadcasting and the football authorities in Scotland for generations so the question of is it being covered up is laughable

— Francis Glasgow (@francis_glasgow) November 17, 2023