The imminent appointment of Michael Beale as Giovanni van Bronckhorst's successor is being tipped to turn Ryan Kent into a goal machine!
That's the claim of Fraser Fletcher who had a summer stint on The Nine, BBC Scotland's flagship news show that rarely attracts an audience of over 20,000.
Fletch trolls through every area of social media for his Ibrox news sources, the return of Beale as first team manager is getting a lukewarm welcome with even the gullible realising that there are deep rooted problems at the club with Kent and Alfredo Morelos contributing a combined total of four goals.
Other than the Daily Record refreshing their trusty 'Leeds swoop for Kent' story twice a year there hasn't been the slightest interest in the former Liverpool starlet.
Now into his fifth season at Ibrox most SPFL clubs have got Kent sussed, a bumper new contract seems unlikely but won't be striking terror into defenders across the country.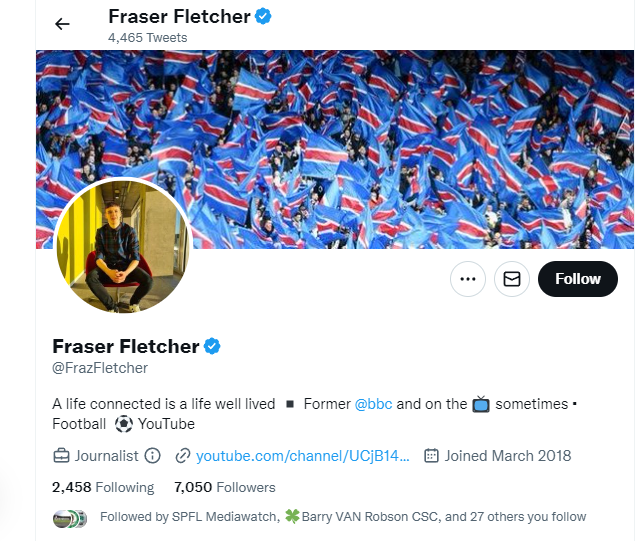 Michael Beales expected appointment as Rangers gaffer could have knock on effects for Ryan Kents future.

Although coveted by other clubs Kent loved working with Beale and was brought to Rangers after being identified by Beale and Gerrard. Could be the catalyst for an extension. pic.twitter.com/efwZE9dHjn

— Fraser Fletcher (@FrazFletcher) November 26, 2022
Coveted by other clubs pic.twitter.com/sNAR5QJHEO

— Godfrey Danyels (@godfreydanyels) November 26, 2022
A player, in a dying squad, is gonna extend on his last year of a 4 year contact. Your at at it

— Euan ??????? (@heyhoyano) November 26, 2022
Many clubs based in
Shotts
Larkhall
Harthill

— gerryq photos ??????? (@gerryq65) November 26, 2022
"coveted by other clubs"?

Aye sure pal ???

— Joey Jo Jo Junior Shabadoo (@Jedbob67) November 26, 2022
I certainly hope so. A bumper 5 year deal sounds about right?

— Cannot be blank so it's (@Frank336069811) November 26, 2022
Coveted ? Ahahahahahahahahahahahaha Ahahahahahahahahahahahaha Ahahahahahahahahahahahaha

— Abhoyforlife Robert Kennedy?????? (@RobertK33433358) November 26, 2022
1. He will be heading into his prime years and no better opportunity to get a move to the EPL than as a free agent as clubs can take the risk.
2. Coveted by other clubs? Who?
3. A blue tick shouldn't be a catalyst to talking shite.

— Paolo 2.0 (@Paolo_Hoops) November 26, 2022
On what basis would you give Kent an extension or new contract. Been a passenger for 18 months. More so at the end of SG n Beale's time in charge.

— DH67 (@damselhelp) November 26, 2022
You are such a dreamer. Who are the clubs coveting Kent? Name one! If Beale takes the post, half the squad are past it. The other half are gone, either in the head or out the door. #Dreamer

— Strummer (@Skattalite65) November 26, 2022