Tam Cowan has pressed the DELETE button on last week's Instagram rant about the SNP.
A mention in the House of Commons created a stir with the BBC funny-man who took to Instagram as he let go some of the issues that he'd never dream of mentioning while picking up his appearance fee for some crackin' Saturday lunchtime banter with the state broadcaster.
That attack brought Cowan some attention on a Celtic forum, like his Westminster call-out he was all over it, sharing a screen capture to his thousands of followers on Instagram.
When this blog did a piece about Cowan's political opinions he decided to get in touch through Instagram, since I don't get paid by the BBC licence I never bothered looking at his no doubt hilarious message.
Snowflake Tam pic.twitter.com/AolkvGOint

— Joe McHugh (@videocelts) March 23, 2023
Fortunately his anti-SNP rant has been captured, lots of folk have read his views, perhaps even some senior figures at the impartial state broadcaster.
With an answer for everything I'm sure there is a good reason why last week's Instagram post was deleted, probably to protect his main earner.
Wary that the days of easy money are probably coming to an end Cowan is on the road to meet his fans with some great nights of banter at Bowling clubs and Masonic Halls across Scotland.
For some diversity David Tanner is the usual MC with a former Scottish football referee supplying humour tailored for the audience of pasty faced, obese elderly men that love the working class banter served up by Tam and his buddie Stuart Cosgrove who can earn a crust outwith BBC Scotland and the Daily Record.
CLICK HERE to read Tam's rant in full alongwith some replies.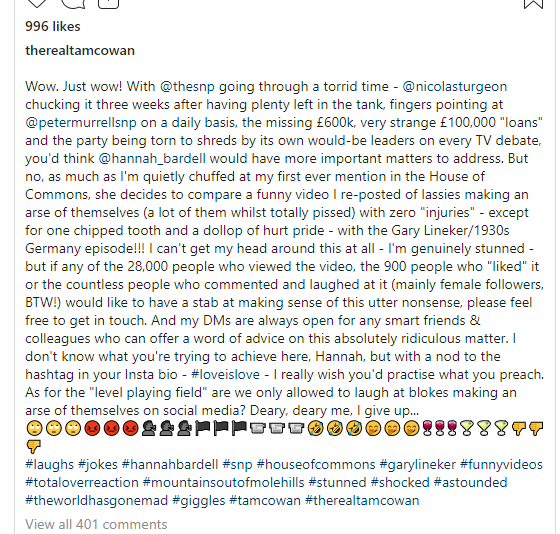 View this post on Instagram
#ScotlandsGame That offending piece by Tam Cowan on women's football which the programme briefly highlighted https://t.co/6FKnRqpKw7

— Matthew Leslie (@mattleslie74) September 15, 2016